Details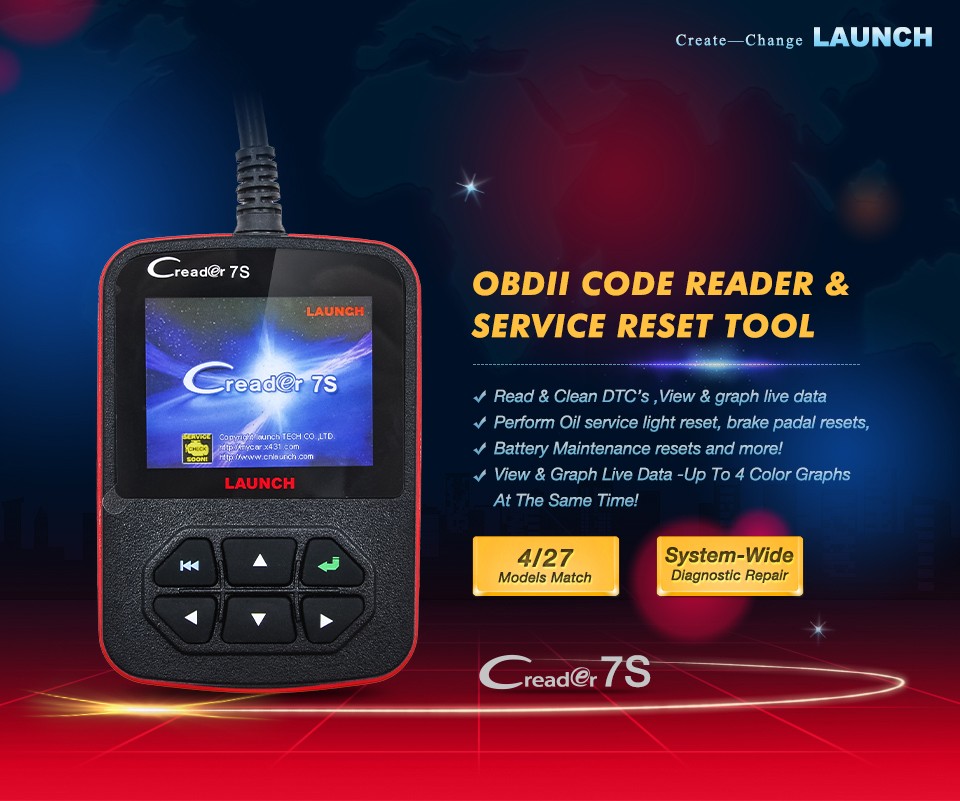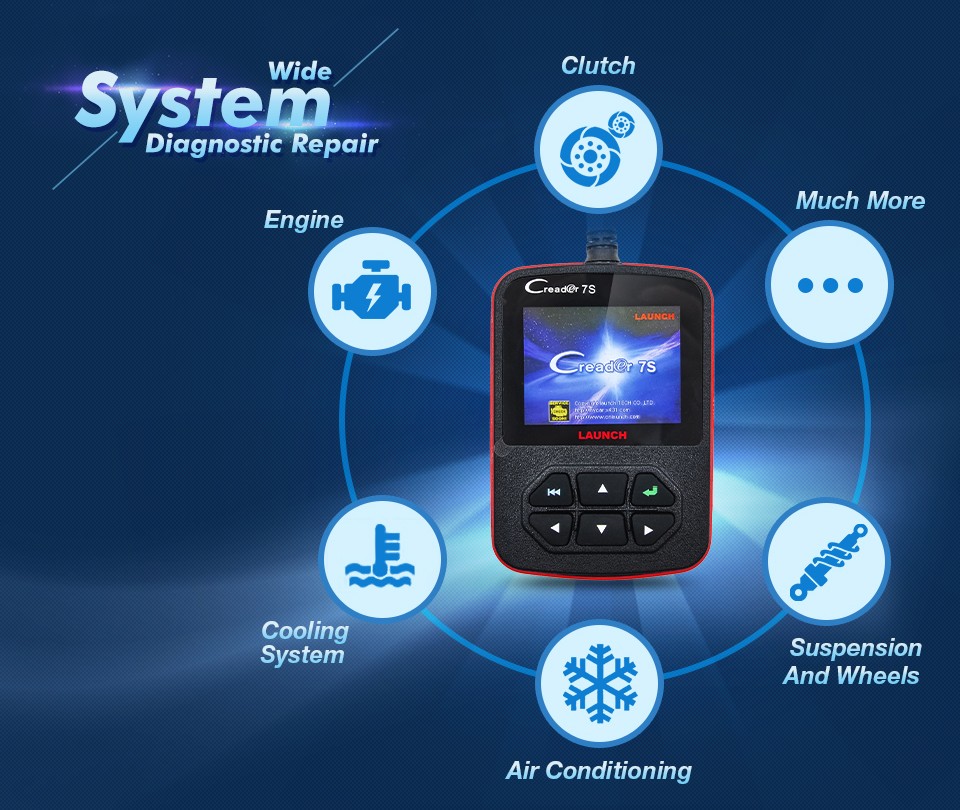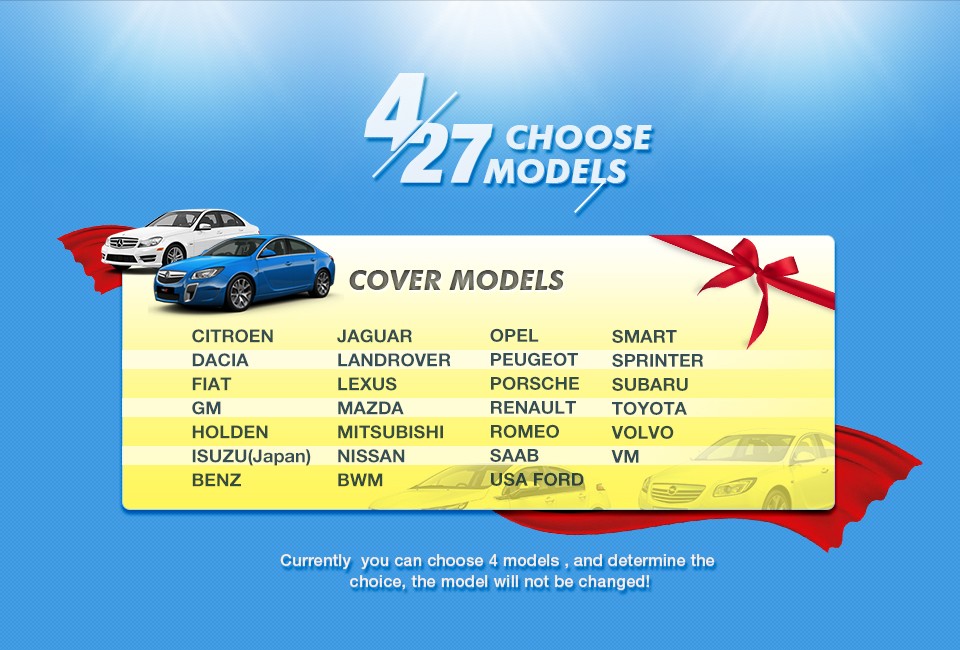 The Creader 7S is the most advanced and multifunctional handheld unit this year 2015 released by Launch Company .
This professional diagnostic device does not require a computer or laptop, but it can be to Mains via USB to any PC.
The diagnostic port is only about plugging into the diagnostic socket in the vehicle and the device is ready for operation.
The readout of the fault memory is therefore very simple.
The errors are displayed directly on the monitor screen.
Note :
Launch Creader 7S is with Cresetter function , can for Oil reset , EPB reset and BAT reset , Creader 6S can not !
The easy to use means of six buttons, the device is very easy to use and suitable for any layman. This professional diagnostic tool for the small purse can help you with vehicle diagnostics.
Examine your car yourself in front of a workshop stay / inspection. Thus, there are no expensive surprises more! The CReader 7S unterstützt all kinds of OBDII test for a complete diagnosis.
Suzuki, Honda, Mitsubishi, Nissan, Toyota, Mazda, Hyundai, Kia, Subaru, Infiniti, Lexus, Accura, Isuzu.
Benz, BMW, VW, Opel, Volvo, Fiat, Land Rover, Seat, Skoda, Audi, Porsche, Saab, Jaguar.
Reading / deleting error codes are almost all European and American models covered Supports engine, transmission, ABS, SRS (airbag) system all actual values can be displayed as a graphical diagram All data can be recorded and played back. Readout of vehicle information (VIN, CIN and CVN) Reads manufacturer-specific codes (P1, P3, and U1) Reads Generic Codes (P0, P2, P3 and U0) display of installation of the OBD2 connection Displays live Oxygen Sensor Test Data Freeze Frame Data Display
It's small, so you can wear it anywhere. With this reader you can examine your cars easily.
The fault code reader contains not only OBDII / EOBD function, but also the functions of their systems (engine, automatic transmission, anti-lock brakes and airbags) of Berghaupten car models, for example, Code reading and erasing, multi-languages, graphical representation of data flow, storage and playback of dynamic data stream, etc.
The reader has a fairly large display that is easy to read.
- Supports all 10 test modes of OBD
- Languages: English , French,Spanish,Germany,Russian,Italian,Czech,Portuguese
- Supports online upgrade
Match Suitable for all vehicles OBDII standard by 1996
- Display of DTC help and service information
- Oxigensensor test and carbon canister test
- Graphical representation of current OBDII Data
- Supports more than 20 head car models in the Americas, Europe and Asia-Pacific
- Operating temperature: 0 ~ 50
- Storage temperature: -20 ~ 70
- Size tolerances: 7.4 "x 4.17" x 1:08 "
- Extremely easy to use and reliable
- Read Dynamic Data stream
- Supports online upgrade
- Screen: 3.5 "TFT LCD Display
- Input voltage range: 9-15 V
- Connector: 16 - pin DLC
- 1xOBD2 diagnostic device
Customer Reviews
Excellent service thank you
Review by

Margus M.

(Posted on 7/26/15)
Excellent service thank you
Review by

Margus M.

(Posted on 7/26/15)
very great product and highly quality Review by

Rudolp639

(Posted on 7/12/15)

Excellent equipment, 100% recommended, very good seller
Review by

luigitorx

(Posted on 7/12/15)
good and working fine
thanks to the seller,beautiful and your patient services;) Review by

Tommie

(Posted on 7/7/15)
good quality, does more than you need, excellent unit Review by

cam

(Posted on 7/7/15)
If you are looking for a best in value DYIer scanner or even a professional low cost scanner. Creader VI is the best so far I have tried. Review by

jezi

(Posted on 7/7/15)
Seller work well with me it took long time to get but great product Thanks Review by

hammer

(Posted on 7/7/15)
Fast dilivery and recieved in good order. Thanx Review by

cegemenge

(Posted on 7/7/15)
good product and fast delivery Review by

Rayco10

(Posted on 7/7/15)