Details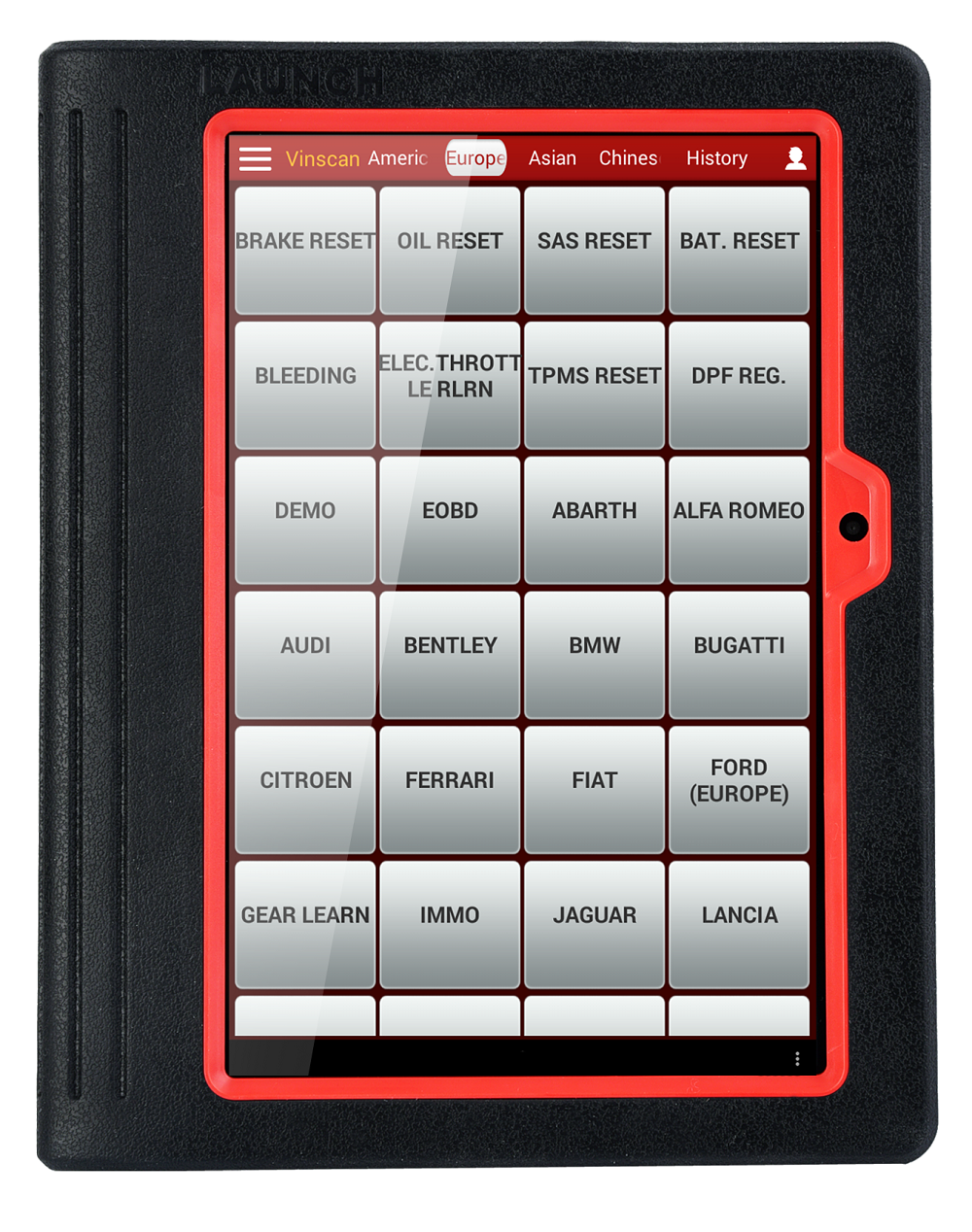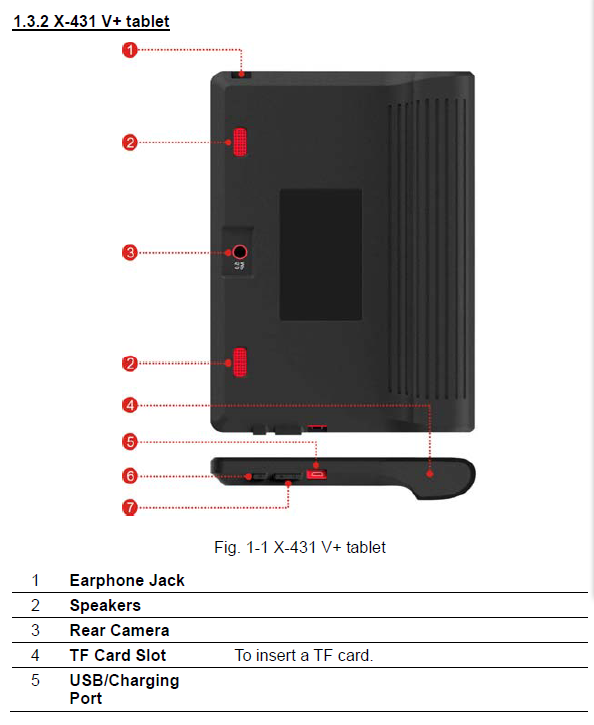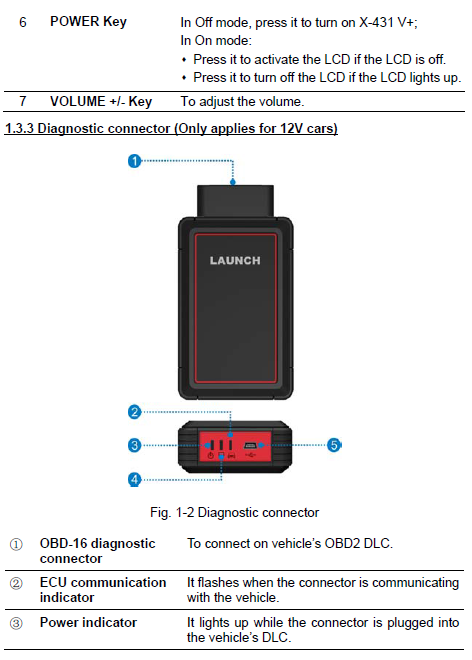 What is advantange of X431 V+?
X-431 V+ taking the advantage of mobile internet, can share maintenance data and case library, provide instant maintenance information, and build public and private maintenance social circle,etc.,thus lead to wide car diagnostic community.
It is a typical diagnostic device contributed by Launch to diagnostic industry concerning internet application.

Launch X431 V+ with Bluetooth/Wifi based on Android system, is a new car malfunction diagnostic device developed by Launch Tech for internet application. X-431 V+ completely substitutes X431 IV and X431 Diagun III.
1.

HUAWEI HiSilicon Quod-core 1.2G HZ, speed faster.
2.

10.1 inch multi touch capacitor screen give you better view for diagnose and data stream.
3.

1GB memory and 8GB storage for data.
4.

Contain 72 car brand from USA, European, Asia and so on.
5.

Support wifi/bluetooth and one click update, make your update job much easier.
6.

6600mAh Li battery can let you continue work 8 hours.
7.

Supported Languages: English, German, French, Italian, Spanish, Portuguese, Polish, Russian, Japanese, Traditional Chinese
8.

Original goods with full time technical service and guarantee.
(1).Can diagnose the electronic control system of prevailing vehicle models covering Asian, European, American and Chinese. Diagnosis functions include: Read DTCs, Clear DTCs, Read datastream, Special functions etc;
(2).Specially designed for Android platform with clear and user-friendly interface;
(3).Via Bluetooth, it is simple for DBScar diagnostic connector tocommunicate with X-431 V+;
(4).Equipped with an exclusive X-431 V+ protection sleeve to prevent it from being damaged;
(5).support system:Engine,A/T,ABS, SRS, electronic control system,body control system,vehicle theft deterrent,instrument panel cluster,radio
2. Browser: built-in Wi-Fi module makes surfing on the internet freely;
3. Email:

allows you to send and receive email. External POP3 or IMAP email account for some common Web email service provider can be added;
4. Search:

enables you to locate your target quickly and conveniently;
5. File Manager:

with it, you can manage the files or downloaded files stored in SD card efficiently;
6. Settings:

to configure your personalized X-431 V+ through it;
7. Other additional functions:

alarm, calendar and calculator etc.
8. Applications:

Other android based applications can be customized to install or uninstall.
9.Social Network Service:

Built-in Social Network Service allows access to diagnostic community
10.One-click update online by Wi-Fi
11.Remote diagnosis & maintenance:work with golo(optional golo,Purchased separately)
12.Print Diagnostic Result:Optional (Wi-Fi),and you can order the LAUNCH X431 Mini WIFI Printer(Purchased separately)
13.Extended Trucks diagnostic functions:Optional LAUNCH X431 HD Truck Module,you can Purchased X431 HD separately and free update trucks diagnostic software to diagnostic trucks.(if you are order the x431 HD and work with X431 V+,your LAUNCH X431 V+ will be Expanded into a petrol cars and diesel trucks 2 in 1 diagnostic device.)
Operating system: Android 5.1
CPU: Quad-core 1.3GHz processor
Battery:

7000mAh rechargeable polymer lithium battery
Memory: 1 GB
Storage capacity: 16GB
LCD: 10.1 inch
Touch screen:

Capacitive touch screen
Cameras: 5.0 mega pixels rear and 2.0 mega pixels front
Wi-Fi:

Support 802.11a/b/g/h
Bluetooth: Supported
Working temperature: 0 - 45
Storage temperature:

-20 - 70
Working voltage: 9-18V
Average working current: About 25mA
Standby current:

About 35mA
Working temperature: -20 to 55
Storage temperature: -30 to 70
Storage humidity: <80%
Working humidity: <60%
Customer Reviews
I am pleased with my purchase! My order arrived promptly and the product was as described! I will order from here again! Review by

Terence

(Posted on 7/27/15)
satisfied with the product thank you very much . Review by

Rakan

(Posted on 7/27/15)
Excellent quality and the shipping speed.i enjoy the product,thanks for the seller `service! Review by

tislam

(Posted on 7/7/15)
Excellent product, exactly what was needed for my mechanics to perform their assigned job duites
Review by

bullseyemods

(Posted on 7/7/15)
super.. very fast... Review by

Igor M.

(Posted on 3/16/15)
super.. very fast... Review by

Igor M.

(Posted on 3/16/15)
Good seller, all my products were fine Review by

Artem M.

(Posted on 3/16/15)
Fast shipping, good quality Review by

Oleg K.

(Posted on 3/16/15)
all is good Review by

Sergey D.

(Posted on 3/16/15)
Product came very quickly! Everyone is happy. Review by

Pavel Z.

(Posted on 3/16/15)