Details
CAN Clip for Renault Diagnostic V155 Latest Renault Diagnostic Tool with excellent PCB board
Top reasons to choose Can Clip A:
1) Updatable software: Latest software version is V155. Software will be about updated about every 2 month.
2) Multi-language: English, German, Brazil, Denish, Spanish, Finnish, French, Italian, Norwegian, Dutch, Portuguese, Romania, Swedish. See the following pictures shows.
Please let us know what language you need when you place the order
, or
we will send you English language instead. Thanks!
3) Widely range: Work on Renault cars from old to latest version.
Software installation: Close/uninstall the unti-virus software, install it on

WIN XP

system laptop.
Renault can Clip Functions:
1. See all the information relating to the vehicle
3. Automatic test of all computers
7. Base Doc (access to Technical Notes)
It's very simple to diagnose a vehicle using Renault CAN Clip Diagnostic Interface: just select the vehicle make, enter the V.I.N. and press ENTER.
Renault can clip crack steps :
1) After Installation finish, DO NOT run your CLIP!!!
1st replace the original file (firstly backup your original RSRwin.exe)
with the RSRwin.exe file in C:\CLIP_X91\Lib\Application\
2). Then run RSRwin.exe, choose "Register me now" and in the next window select "No"!
3). Use this Key for Registration:333DEF-111DEF-111DEF-222DEF-221DEF-000DEF
It will work until 31/12/2020 :)
4). Recover the original RSRWin.exe
To avoid PERMANENTLY this, please do the following steps:
1. Alt+Ctrl+Del (Kill process RSRWin.exe)
2. Delete RSRWin.exe (in C:\Windows)
3. Use Regedit (and Delete "ALL" values with name RSRWin)
4. Reboot your machine!!!
5. NO MORE flash for SPX Registration...
Before your 1st Running with the program make those steps:
You NEED to have 1 Rnault Car (and ALWAYS can clip running-working)
when you have Rnault Car!
1. Connect your Clip Sonde Can Interface 1st in your Car (OBD Slot)
2. Turn Ignition ON (NOT Engine running)
3. Connect your Clip Sonde Can Interface via USB cable with your computer
4. Start to installing ALL the Drivers (that they will be appearing) andmm
you can find those in: C:\WINDOWS\system32\drivers or from this DVD
in the folder "CAN-Clip Drivers".
5. You must INSTALL 4 Drivers (4 TIMES the same thing)
After you finish, you can RUN now finally your CAN-Clip Software.
Q1: Renault Can Clip all four indicator light flash, but when I enter the diagnosis menu, the CAN indicator light off and can't establish connection, while the other three ones go on flashing. What should I do?
A1: there are two solutions:
1) try to install the software on a laptop (PC), no connection with power.
2) Try to diagnose K-line protocol car, if it works, but can't diagnose CAN BUS car, advice you return back to us for check.
Q2:The can clip can worked very well before, but after i reinstall the software, system get the following error(need registration),
error reading:
SPX CLIP Registration Client?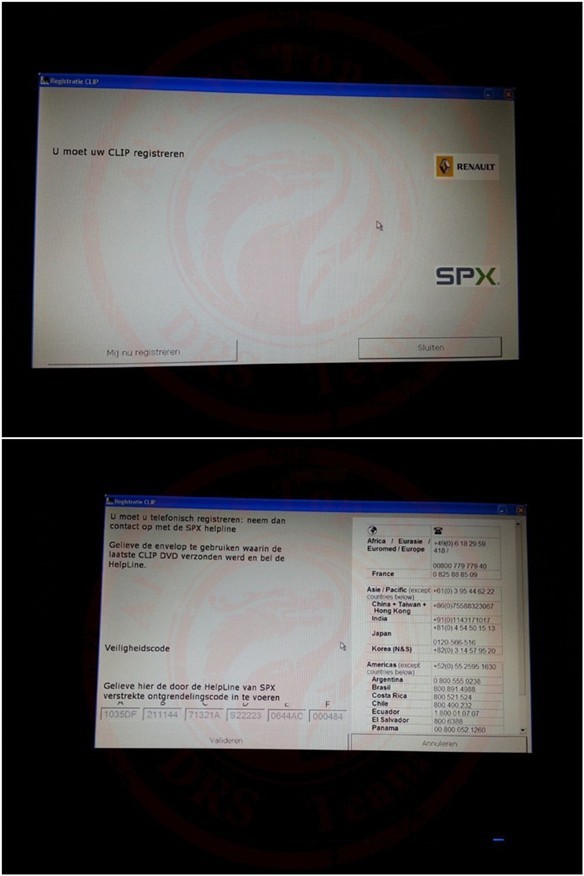 A2:
Fom the error picture, it shows the customer did not installed the software rightly!
Please install the software on the computer with XP operation system, better American English Professional version system;and follow the steps to install it.
Q3: How can I change English into French?
A3: When install the software, you can select the French, but after you complete installation you cannot change the language. So, you have to uninstall the software and reinstall it, during installation, select language French.
Q4: When I try to program with Renault CAN Clip, no communication, what's the problem?
A4: Renault CAN Clip we supply only support diagnosis, not support programming.
Q5: Does Renault Can clip work with Renault Megage 2 Phase 2 2008-2010? Can it read out and set Wheel valve information? Can make key and support wiper blade?
A5: Renault CAN clip only support diagnosing, it can't make key.
Q6: Can it do my car NENAULT of 1995? Thanks.
A6: Yes, it can do Renault cars before 1996, but please tell me your car information in details, and then I can check for you!
Q7: Does Renault CAN Clip support analyze and test the status of Renault Megane II 2003 year up, and test the switch of electric windows.
1pc x Renault can clip Main unit
1pc x Renault 12pin Cable